The CLC Mission Helper Program was started in 1997 with the goal of providing an opportunity for individuals to use their God given gifts and talents in overseas missions. Three-four week trips are planned on a rotating basis to areas of the world where we are privileged to work with local church bodies with whom the CLC is in fellowship. The main goal of each Mission Helper Trip is to spread the Good News of forgiveness, salvation, and eternal life through the life, death, and resurrection of our Savior Jesus. This Gospel message is proclaimed primarily through child evangelism efforts. These trips provide a unique way for members of the CLC to spread the Good News of Christ crucified and risen from the dead for the forgiveness of sins, salvation, and eternal life for sinners the whole world over.
Over the past several years more than 100 individuals have participated as Mission Helpers on trips to India, Nepal, and East Africa. Thousands of children have heard the Gospel of Jesus Christ through the child evangelism efforts of the Mission Helpers. For this, we praise the Lord for His grace and mercy.
God's LOVE for sinners like us is the Reason for the CLC Mission Helper Program.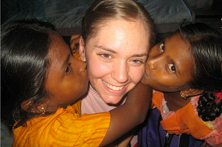 The main purpose of the CLC Mission Helper Program is, quite simply, to provide opportunities for members of the CLC to assist in carrying out our Savior's great commission to teach and preach the Gospel and to be His witnesses throughout the world. Many things are accomplished when we make the effort to travel to other parts of the world to work alongside our brothers and sisters in Christ. Consider just a few examples: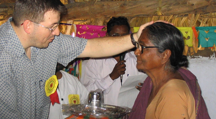 The truth of God's saving word is taught as we share what we have been so blessed to learn.
A bond of brotherly love and concern is fostered in the hearts of the Mission Helpers and those we assist as we work together, side by side, to the glory of our Savior.
Mission Helpers use their God-given talents to serve our Savior as we serve others by teaching God's Law and Gospel.
Mission Helpers return home to the U.S. with a fresh and first-hand appreciation for the power of the Gospel of Jesus Christ and for the privilege of being an ambassador of Jesus Christ.