God's LOVE for sinners like us is the Reason for the CLC Mission Helper Program.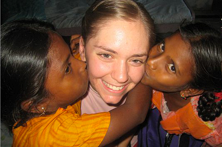 The main purpose of the CLC Mission Helper Program is quite simply to provide opportunities for members of the CLC to assist in carrying out our Savior's great commission to teach and preach the Gospel and to be His witnesses throughout the world. Many things are accomplished when we make the effort to travel overseas to assist in the work that our brothers and sisters in Christ are doing in other parts of the world. Consider just a few examples:
The truth of God's Word is taught as we share what we have learned from our Scriptural training.
A bond of brotherly love and concern is developed in the hearts of the Mission Helpers and those we assist as we work together, side by side, to the glory of our Savior.
Mission Helpers are able to use their God-given talents in the service of His Kingdom.
Mission Helpers return home to the U.S. with a fresh and first hand appreciation for the power of the Gospel of Jesus Christ and for the mission work that our church body is involved with in the foreign fields.